Hi ,
I am performing geometry optimization for a set of alkynes (ethyne, propyne, 1-butyne, so on to 3-hexyne). I observed that atoms in linear angles are skipped in the list of internal coordinates printed in the output file.
For example, consider the following molecule 2-pentyne, figure attached, with labelled atom numbers, where C1 indicates that the carbon atom has an index of 1. So the linear angles will be C1-C3-C5 and C3-C5-C4, while the corresponding dihedral shall be C1-C3-C5-C4 , indicating D(1,3,5,4)
The internal coordinates such as D(2,1,3,5) is replaced by D(2,1,4,11), so the atoms in the triple bonds are missing. I have only seen this for molecules with linear angles like alkynes, so far. Is there a way around to get this right?
Additional input info:
opttheory="mp2"
optbasis="6-31g(d)"
options={'scf_type': 'df', 'g_convergence':'gau','freeze_core':'true'}
psi4.set_options(options)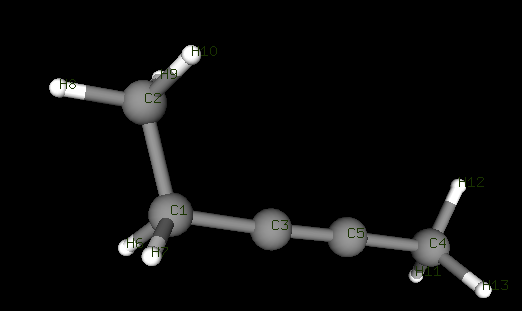 Thanks
Payal