Hello,
I'm new to psi4 and looking forward to using the python module within jupyter notebooks for class work.
Following the PsiAPI Tutorial, tried to map potential curves of 2nd row diatomics. Certain diatomics give strange results despite converging without complaints. I've (naively) fiddled with reference wfs, setting charge and multiplicity explicitly or letting psi4 set these, changing e_convergence, basis sets, etc. and the unexpected (to me) results are reproducible. So I'm probably missing something obvious!
Environment: linux conda python 3.6, psi4 1.1+add49b9.
The legends give multiplicity and diatom's element. All of these were rohf scf/6-31g* (similar results with rhf on singlets tho).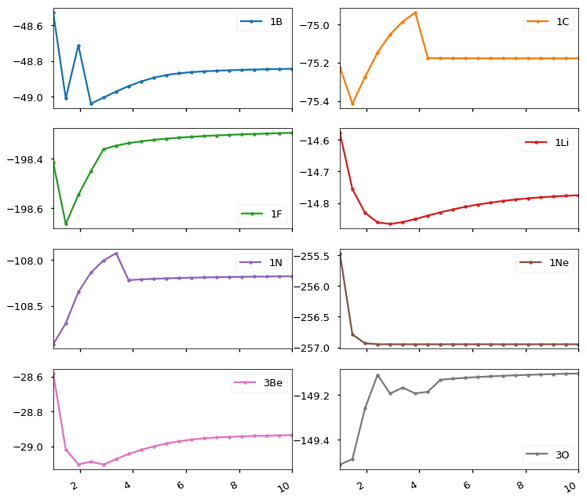 Specifically, these were generated by looping over r values with psi4.energy() and a template string:
r = np.linspace(1.25, 4, 20)
zmat = """
B
B 1 %s
"""
The hackish
Jupyter notebook
is rendered on github.
Any suggestions or guidance?
Thanks again…the python module enables an exciting new work flow!
Steve